2019 Road Resurfacing Program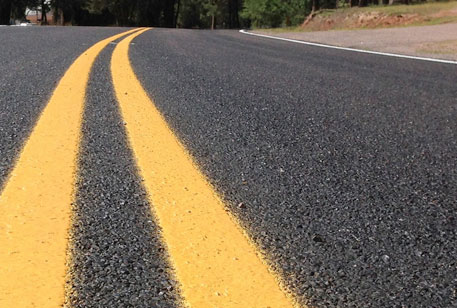 Using a combination of the Pavement Quality Index rating and geographic nexus for competitive pricing, the following list of streets will be included in the 2019 Miami Township street resurfacing program. (CDS stands for cul-de-sac) Where necessary, some of the streets will also include replacement concrete curbs and gutters. The concrete curb and gutter work will replace 2,200 linear feet. The total distance of asphalt street resurfacing will include 8.6 miles. This is twice the amount that was resurfaced annually prior to last fall's new 1 mil street repaving levy that was approved by the voters. Miami Township is responsible for 156 miles of streets. As residents are aware, some of the roadways in the Township are the responsibility for maintenance and resurfacing by ODOT or the Clermont County Engineer's Office.

Bids for the resurfacing program were recently opened and it is expected that on April 16th the Trustees will award this year's contract to Barrett Paving. Once a pre-construction meeting is held with the contractor, an approximate start date will be known and we will be able to share those anticipated dates.

2019 STREET LIST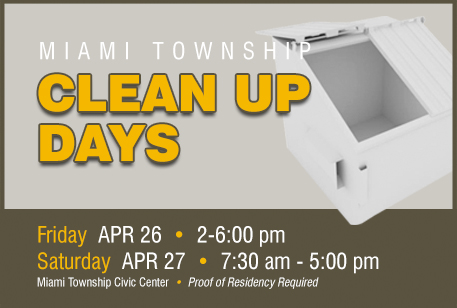 CLEAN UP DAYS
The Service Department will have dumpsters brought to the Civic Center parking lot for residents on Friday, APR 26 (2-6:00 pm) and Saturday, APR 27 (7:30 am - 5 pm).
NEW SHREDDING LOCATION!
Shredding will take place at 5900 McPicken Dr (near the salt dome) on
SATURDAY ONLY
. Please follow the signs for entrance an exit to the new location. Dumpsters will remain at the Civic Center - this is for shredding only.
•
NEW SHREDDING LOCATION MAP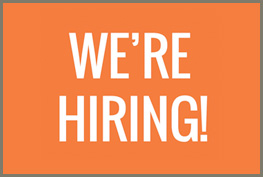 PART TIME WORKERS
The Miami Township Service Department is seeking applicants for the positions of Park Maintenance Worker and Road Maintenance Worker. These are part-time positions, up to 40 hours per week, some weekends required.

ANNOUNCEMENT • APPLICATION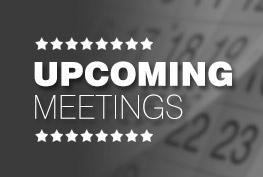 Public Notice
• Trustee Business Meeting (4/16)
• Zoning Commision (5/2)
• Board of Zoning Appeals (5/6)
• Trustee Work Session (5/13)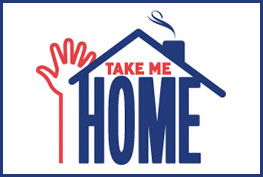 Take Me Home
Take Me Home is a database only accessible to law enforcement & emergency personnel for those who may have difficulty communicating due to a developmental or cognitive disability, while lost or in an emergency-situation.

FIND OUT MORE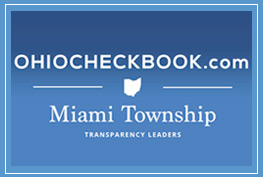 Township Checkbook
Find the Township's online checkbook at
MiamiTownshipClermont.Ohio
Checkbook.com
.