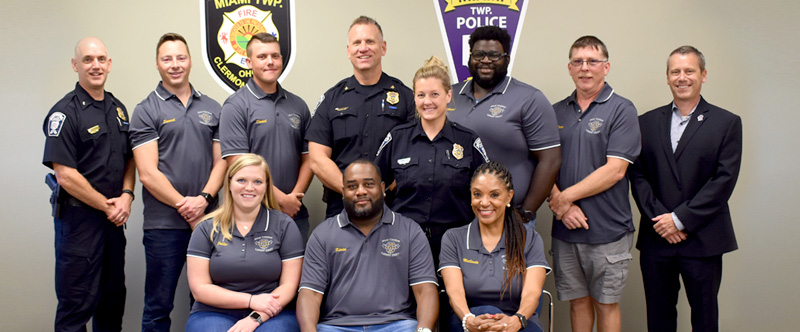 • • •
CPA APPLICATION
Citizens Police Academy is a joint academy with the Milford and Loveland Police Departments. This 10 week course is typically held every Wednesday from 6:30p – 9:30p beginning in September, with a graduation dinner taking place late November.
This program provides an opportunity for citizens to learn about the operations of a police department and various aspects of what it is like to be a police officer. A lot of the training will be hands on! Some of the training topics include: Police K-9, jail tour, narcotics, active shooter, a visit from Air Care and gun safety. Applicants must be a minimum of 18 years old and willing to submit to a background check. The class has a limited number of participants with priority given to Miami Township residents.
Click on the link above to complete your application, or for further questions you can contact Officer Miller at 248-3721 or
Staci.Miller@MiamiTwpOH.gov
==================
The Miami Township Citizens Police Academy began in 1998 and educates the community in the philosophy of community oriented policing. This philosophy encourages citizen participation in crime reduction activities and forms relationships with neighborhood associations. The Academy provides hands-on-learning, which allows the public to see what we do, how we do it, and why we do it. If interested in attending a future academy, please contact Lieutenant Ted Swain at (513) 248-3721.
The curriculum for the academy will vary depending on the availability of instructors. The normal curriculum consist of the following:
• Orientation
• Police Chaplains
• Department Structure
• CPR/AED
• Defensive Driving
• Fire Department
• Traffic Stops
• Use of Force
• Criminal Investigations
• Fingerprints
• History of Law Enforcement
• Jail Tour
• Firearms Training Simulator
• CPA Alumni Association
• Sheriff's Function
• Traffic Control/Motorcycle Unit
• Township Form of Government
• Road Patrol Functions
• Crime Prevention
• Community Relations
CITIZENS POLICE ACADEMY ALUMNI ASSOCIATION
The Miami Township Citizens Police Academy Alumni (CPAAA) was formed after the completion of Session One of the Citizens police Academy. The members of the first academy class wished to remain active with the police department after graduation.
They formed the alumni association as a means to stay involved and to volunteer for community events. The membership requirement to the association is to be a graduate of a CPA Session. The association that started with just a few members now consist of nearly one hundred active members. The CPAAA meets once a month for eleven months January through November. The meetings consists of a social hour followed by a guest speaker. The meeting concludes with the business portion of the meeting.
The group has elected board members consisting of a President, Vice President, Secretary, and Treasurer. The board is elected annually by a plurality vote of the members at the Annual Meeting in November. Officers elected in November began their term in January.
Events in which the Alumni Association members participate in include a wide range of activities. They include activities that are security orientated which includes manning road blocks during parades, helping with security at park events and security patrols . They help with community relations events such as Super Senior Saturday, Kids N' Cops and Safety Fair. They perform functions for the police department such as clerical duties, inventories and statistical gathering functions. CPAAA members help in our schools during DARE graduations, lock down drills and drivers safety programs such as mock crashes.
The members of the CPAAA believe that a safe community is everyone's responsibility not just the emergency services. They believe in their community and are willing to volunteer their time and talents to keep it a great place to live.