Spirit of '76 Veteran's Memorial Park
at Miami Meadows Park
1546 State Route 131 • 45150
The Spirit of '76 Memorial Park was dedicated in 2013 and includes the Korean War Memorial, a 'Freedom Trail' that has benches inscribed with excerpts from historic document and speeches, a 'Grove of American Colonies' with a crab apple tree and plaques for each of the original thirteen colonies and a 'Liberty Tree.' 
Those and related projects happened with generous help from Eagle Scouts and students from the Milford Exempted Village School District.
Get Directions
Park Map
Park Rules
MIAMI TOWNSHIP PARKS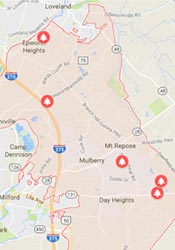 Miami Township parks provide many opportunities to explore, discover, play and learn. From fishing and walking trails at Miami Meadows to volleyball and frisbee golf at Community park...
Seek recreation and you shall find!