587 Branch Hill Loveland Rd • 45140
Field Status Hotline
: (513) 248.5513
Miami Riverview Park is a gorgeous 35 acre park that has baseball fields, soccer fields, a picnic shelter, restroom facilities, walking trails, a tennis court, basketball court and other recreational activities suitable for the entire family.
A connection to the Little Miami Scenic Bike Trail was developed in cooperation with the Ohio Department of Natural Resources, and makes this park an even bigger attraction than it already is.
Get Directions
Park Map
Reserve Pavilion
Park Rules
MIAMI TOWNSHIP PARKS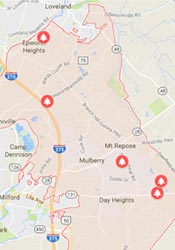 Miami Township parks provide many opportunities to explore, discover, play and learn. From fishing and walking trails at Miami Meadows to volleyball and frisbee golf at Community park...
Seek recreation and you shall find!